Frequently Asked Questions
Where are you based

?
The United States
Can we purchase the past boxes?
Currently we do not plan to redo any of the past boxes. When these theme is complete we plan to Apparate right into the next theme!
How Much is the Bi-Monthly Box?
Our Bi-monthly box contains at least eight to ten magical items and cost $54.99 USD plus shipping.
Do you offer Coupons?
Yes! We offer coupons through our brand representatives! Coupon codes will not work on items that are "Limited Edition" items and items are not eligable for coupon code usage the first 30 days they are on the website!
Do we ship Internationally?
We do offer international shipping! International shipping ranges from two to four weeks but unfortunately we can not guarantee delivery during that time frame in case of any customs or shipping issues. We will always provide tracking for all of our boxes so you are able to keep up with your parcels this way! Unfortunately, we can not control international packages being lost, destroyed, or stolen during shipping and would not be able to replace or refund packages if something like this did occur. If your package is returned to us, we will gladly reship it to the buyer at the buyers expense. All International parcels are sent with insurance and if your box somehow becomes lost you will be able to file a claim for your refund!
Updating Your Address
To update your shipping address, login to your online account and select "Manage" on the subscription that your address needs to be updated on. On the next page you will see "Shipping Details", select the option to edit. On the next page you will see the option to "add a new address". Select to add a new address and enter your new shipping details, once your new details have been entered and you select "Save address and continue". You will now see the newly entered address within your account. Select your new address and then ensure that you select "Save Shipping Options". You will receive a message that asks if you would like to update your shipping address for all previous orders, please select "YES" and this will update your shipping address on your previous orders!

This will need to be completed for each of your subscriptions if you have the Quarterly and Bi-monthly.
What if my box is returned to you?
Any boxes that are returned to us will be shipped back to the subscriber but the cost to reship the box will be paid by the subscriber, if their address was entered wrong, or they fail to retrieve their box from customs, or other situations such as this.
Billing
Each box bills in advance for the following box, for instance if you sign up between June 15th and August 14th you are signing up for the August box! If signing up after the 15th of any shipping month you are signing up for the next box that would ship in October.
This is the same for the Quarterly box, if signing up between August 25th and November 24th you are signing up for the box that ships in November! On November 25th you are then signing up for the February box!
Renewals
Renewals are the same for all subscribers!
Our Bi-monthly re-billing is on the 14th or 15th of each shipping month regardless of when you sign up. If signing up on September 29th then your re-billing will occur on October 15th. Signing up during a billing period is the only time a re-billing will occur twice before two months have elapsed. After that initial billing you will re-bill on the same two month schedule.
The same applies to the Quarterly Subscription also; Re-billing will always be on the 25th of the Shipping months for the Quarterly box. (February, May, August, and November) regardless of when you sign up!
Do you have a size chart for your wearables?
Yes! Our size chart is below!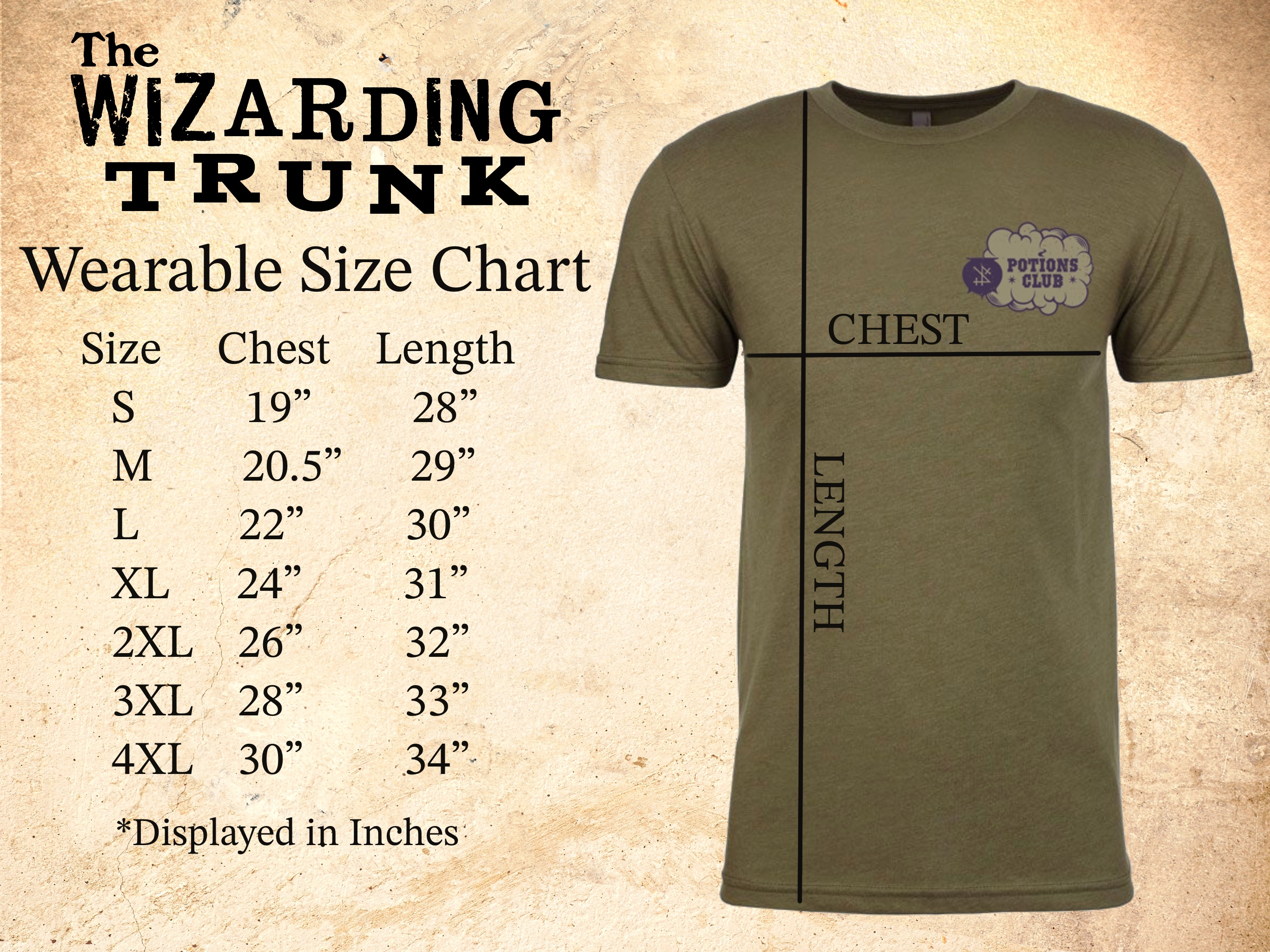 Do you Personalize Items?
At times we do include p

ersonalized items inside our Subscription boxes. Personalized will be addressed to the name on the Shipping Address of the Sunscription. To esure that your personalized items are addressed to the correct Witch or Wizard please make sure that their name is the first and last name on the Shipping address. Unfortunatley we will not be able to replace any personalied items if the correct name is not included on the Subscription Account.
Do you offer Refunds?
Unfortunately we do not refund subscriptions, if you would like to ensure that you are not re-billed you will need to cancel your subscription before your re-billing date. Not sure where to find your re-billing date? You can log in and check on your orders page!  If for some reason a refund is needed, refunds that are processed will be not include the processing fee associated with the original charge.
Other Questions? 
Please feel free to email us at Info@thewizardingtrunk.com